Smailholm Tower turf roof unveiled
April 4 2012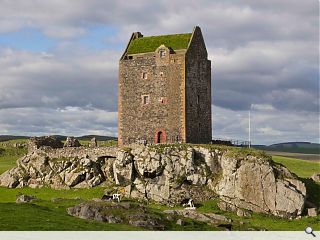 Historic Scotland, in partnership with consultant architect Tom Morton, has completed an innovative project to
re-lay the roof of a 15th century tower house
, located between Kelso and Melrose, in turf.
The 'living' roof was devised in order to resolve a long standing problem of water penetration, which had affected structural timbers and upper apartments, resulting in hairline cracks emerging in the towers cap of whinstone rubble – replacement for a long gone stone slab.
District Architect for Historic Scotland, Peter Ranson, said: "Because restoration of the stone slab roof would have been largely conjectural and involved unacceptable disturbance to the existing fabric, we explored other possibilities for keeping water out.
"In 2006, the agency trialled two different specifications of living roof. One was based on traditional puddled clay below turf, and the other a proprietary clay membrane beneath a sedum mat. The tests were checked over a period of two years, with visual inspections and electronic monitoring, and we discovered that both roofs had been successful in preventing rainwater penetration."
The finished scheme adopts aspects of both these solutions, including modified sedum to enhance drought resistance and a thicker sward to improve rainwater retention and is believed to be the first application of such a system on such a steeply sloping roof.
It also carries echoes of the tower in its historic guise with rooftop vegetation documented in early images.
Back to April 2012