Clyde Gateway solicit opinion on Dalmarnock office block
March 28 2012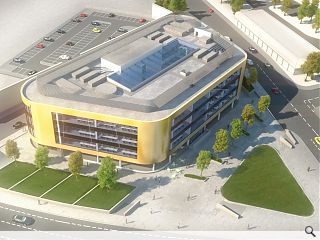 Clyde Gateway is to host a series of community consultations over the coming days in a bid to obtain the views and opinions of residents and businesses on a proposal to build a 10,000sq/m office block opposite Dalmarnock Station.
The Station, which is itself to be redeveloped shortly ahead of the Commonwealth Games, will be a key access point to the Games site but is currently isolated.
Alison Brown, Project Manager at Clyde Gateway said "The imminent opening of the East End Regeneration Route and the completion of the £9m overhaul of Dalmarnock Station in late 2013 will transform how the area will look and it is our view it will provide the commercial market with an exciting new business location.
"We have worked up a proposal for a four-storey building that is almost 10,000 sq metres in size and would cost around £16m to build. It could work either as a stand-alone HQ office or be a location for a number of smaller and medium-sized operations with up to 600 staff in total. We are also proposing it contains much needed conference centre facilities that could be used not just by the occupants of this building but also the existing and future businesses from across the East End."
The design team is being led by project managers Mace whilst Cooper Cromar is acting as architects.
Members of the design team and Clyde Gateway will be on hand at Clyde Gateway's Bridgeton Cross HQ to to answer questions this Thursday between 11am and 8pm and on Friday between 11am and 3pm.
An additional presentation will be held in the Dalmarnock Centre, Lily Street, from 11am to 3pm.
Back to March 2012