Arch Henderson detail Kelpie runner-up
March 27 2012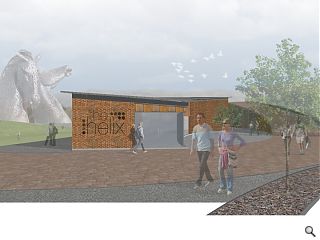 Fresh from publication of
ZM Architecture's
shortlisted entry in the competition to design a new visitor centre to sit alongside Andy Scott's Kelpies structure Arch Henderson have chipped in with their own oh so nearly plans.
Senior Architect Andrew Parker told Urban Realm: "Our approach was very much a direct response to the context of the brief, with an emphasis on the notion of 'equine architecture'. Developing an industrial narrative we looked to create a visitor centre that acknowledged the factories and boathouses that line the canal without mimicking, yet embracing the innovation of the Kelpies."
This approach adopts the form of two interlocking horseshoes, allowing a pedestrian route to flow around, between and over the visitor hub, part of a wider "journey" through the landscaped environment with viewpoints to the Kelpies considered throughout.
A separate enclosed lift was also designed to whisk sightseers 20m up into mane of one of the giant equine heads, a deliberate attempt to build anticipation during the surreal ascent.
Parker added: "…a glazed walkway extends out over the head of the Kelpie allowing those brave enough to venture out over the 4-storey drop and experience a sculpture like never before."
Ultimately however it was
Nicoll Russell Studios
who swayed jurors with their 'dynamic' response.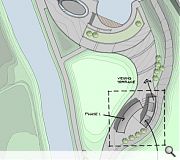 Distinct vistas of the sculptures are afforded via the architecture and topography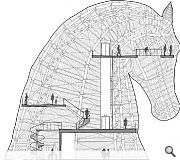 The Kelpie head itself isn't for those with vertigo
Back to March 2012