Formica Group awarded Carbon Trust carbon reduction label
March 26 2012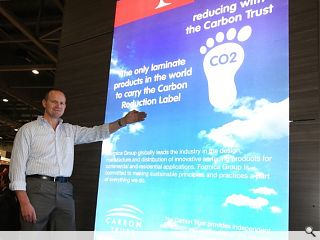 Formica Group has been awarded a Carbon Reduction label by the
Carbon Trust
after putting a range of its laminates and worktops through a carbon footprint analysis.
It signifies that the total greenhouse gas emissions from every stage of the products lifecycle have been assessed, providing a benchmark for measuring and reducing Formica Group's carbon footprint over the next two years.
This is in addition to a separate target to reduce carbon emissions for all operations, vehicles and facilities by 5% by 2012.
The accreditation applies to 90% of Formica Group's products portfolio and comes hot on the heels of the sustainability charities
Scottish awards bash
.
Mark Adamson, CEO of Formica Group, said: "With our worldwide presence and manufacturing facilities, Formica Group leads the way in design and innovation for the production of High Pressure Laminate. Now we are leading the way on this important facet of product manufacturing.
"Displaying the Carbon Reduction Label on our products is a clear and effective way of communicating to all of our customers that we are working to reduce the carbon footprint of our products. Reducing our impact on the environment is a core part of Formica Group's company-wide vision and values."
Darran Messem, Managing Director of Certification at the Carbon Trust, added: "We congratulate the Formica Group of companies on the certification and labelling of their products. The Carbon Reduction Label allows Formica Group to easily and openly communicate the serious and credible steps it is taking to reduce carbon emissions."
Back to March 2012