ZM showcase Kelpie runner up
March 23 2012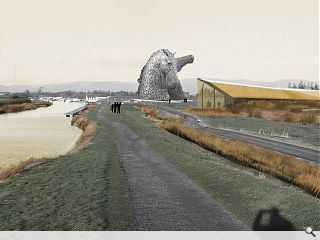 ZM Architecture, runners up in a competition to design a visitor centre for Andy Scott's Kelpies sculpture, have showcased their designs.
The one which got away would have incorporated a spiral stair within the Kelpie head giving access to a viewing platform with a flooring below composed of 'bonded rubber crumb' to create a 'soft and sensual' environment.
A separate visitor centre was planned alongside this sporting a large lattice timber trussed roof and black matt steel panels – to provide a sharp, precise edge to the Kelpies.
Peter Richardson of ZM Architecture said: "Our idea was to completely line the interior of the Kelpie head with ETFE pillows – creating a dramatic and unusual internal volume with minimal effect on the structure of the sculpture.
"Our visitor hub was a modern take on a reed or thatched roof plane extended along the landscape and flat steel panels for the building skin as a counterpoint to the textured steel surface of the horse sculptures."
Nicoll Russell Studio ultimately
won the £1m commission
.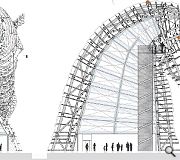 A 2.8m high base perimeter wall would have acted as a canvas for a range of temporary exhibitions
Back to March 2012