RIAS Awards shortlist announced
March 12 2012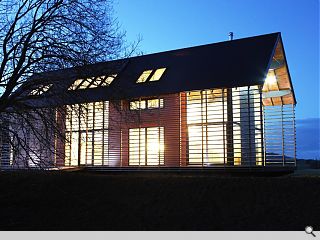 A 23 strong shortlist has been unveiled for the inaugural RIAS Awards, the latest awards scheme to be launched by the architects body.

A total of 71 submissions were received for the competition, which RIAs president Sholto Humphries claims is a more important recognition of architectural achievement than the Andrew Doolan Awards, also promoted by the RIAS.

Humphries said: "While we are considering an extraordinary range of projects of different scale and type, from a modest house extension to a multi-million pound museum refurbishment, we will be rewarding those projects which we feel best address the primary role of architecture, that is improving people's lives."

The judging panel comprises Humphries, Dr Anne Lorne Gillies, Scottish singer, songwriter, broadcaster, author and academic, Robert Dye of Robert Dye Associates, London and Peter Wilson, Director of the Wood Studio at Napier University winner.
Winners will be announced on June 20.
The shortlist in full:
Bogbain Mill, Lochussie, by Maryburgh (n/a)
Rural Design
"This ingenious conversion of a rural mill creates a home within a superbly landscaped setting which beautifully blends its industrial history to create a delightful contemporary living space."

Cape Cove, Shore Road, Helensburgh (£450k)
Cameron Webster Architects
"Set right at the water's edge, this home is designed to command superb seaward views. It rises from its natural rock foundations as an extraordinarily uncompromising and alluring work of modernity."

Corinthian Club, Glasgow (£4.5m)
G1 Group
"The conversion of this magnificent historic bank has created a collection of bars, restaurants, a casino, a club and lettable conference suites of unrivalled opulence. It is a real attraction for visitors and a delightful asset for Glaswegians."

Dundee House (£29.85m)
Reiach and Hall Architects
"The new headquarters for Dundee Council will be an important catalyst in the regeneration of this part of the city centre. It ingeniously combines an Edwardian publishing warehouse with bold new build extensions above and to the rear of the historic block."

Flanders Moss Viewing Tower, Carse of Stirling (£110k)
Robin Baker Architects
"This is a deceptively simple structure. Ingeniously employing timber engineering technology it is appropriate to its setting and recognises the importance of providing safe viewing accommodation to minimise stress upon the landscape which it will help to conserve."

Fore Street, Glasgow (£1.5m)
Hypostyle Architects
"This is a new community built within the embrace of the historic tenemental landscape. These new homes are bright, welcoming and ingeniously woven into the existing fabric of the city, providing a useful model for the future."

Forth Valley College of Further and Higher Education, Alloa Campus (£12.3m)
Reiach and Hall Architects
"The recent growth in buildings for all stages of education has generated some of Scotland's most powerfully expressive new structures. Set within a mature landscape this new college is both inviting and stimulating."

Garden Room and Studio for an Oenologist & Artist, Edinburgh (n/a)
David Blaikie Architects
"A departure from the traditional garden room, this extension is ingeniously organised to maximise daylighting within its enclosed setting. Elegantly detailed, it creates an attractive and engaging addition to the home, well suited to the cultural interests of its owners."

Grödians, Lerwick (£4.5m)
Richard Gibson Architects
"A careful yet engaging new addition to the Lerwick landscape, understated in form but highly appealing – these new homes brighten the landscape. The Scandinavian inspired simple timber elevations are somehow entirely suited to this special setting at this seaward edge of Scotland."

Heathfield Primary School, Ayr (£3.7m)
Holmes Miller
"Combining an established Victorian school with a very new substantial extension was a particular challenge which has been well met. This is an excellent environment for nurturing and stimulating young minds."

Heriot's Centre for Sport & Exercise, Edinburgh (n/a)
LDN Architects LLP
"The external appearance of the building belies its innovative use of timber technology. Set within the campus of an existing historic school, this building provides state-of-the-art, contemporary accommodation."

Hillcrest Housing Association HQ, Dundee (£4.95m)
Nicoll Russell Studios
"An impressive achievement for the budget, this new building is human in scale and an inspiring workplace. True to the ethos of its housing association client, the construction programme helped develop the skills of young apprentices."

Hillhead Primary School, Glasgow (£13.8m)
jm architects
"Combining a school with publicly accessible facilities, this building is very contemporary and very welcoming. The fronting block contains halls and the library, while the classrooms are set behind, commanding superb views of the adjacent park."

House at Borreraig, Skye (£470k)
Dualchas Building Design
"This new home is elegant and deceptively simple in form. The external timber skin ensures that the building does not intrude upon its natural setting. The same restraint and reliance on natural materials is evident in the uncluttered interiors."

Linlithgow Burgh Halls (£3.2m)
Malcolm Fraser Architects
"Crucially important to the town, this re-use of a key historic building brings new life and vitality – an inspiring dialogue with the building's history. Long neglected, the Burgh Halls are now an asset."

Loch Leven Bird Hide, Fife (£34k including foundations)
Icosis Architects
"For a very modest budget, this building cleverly addresses the needs of human visitors yet its form is raw and elemental, seeming to grow as an appropriate foil to the natural environment in which it sits."

Maggie's Gartnavel, Glasgow (n/a)
OMA
"The support provided by the Maggie's centres is invaluable. Several of these buildings, by "signature" architects, are visible over long distances. Here the approach has been about more modest external expression, embracing a courtyard garden to generate a place of gentle contemplation."

Marlaw, Glasgow (n/a)
Gareth Hoskins Architects
"This is one of the most substantial and impressive new homes to be built in Scotland for many years. Quite different from the Victorian villas which sit in close proximity, the approach is contemporary, the materials and detailing sublime."

Model 'D' House, Insch (£140k exclusive of siteworks)
Gokay Deveci Chartered Architect
"Although its shape is relatively familiar, the external envelope of this new dwelling is anything but. This highly energy efficient home utilises its setting and natural daylight to improve the building's performance and reduce costs, contributing to an attractive, comfortable and durable new approach to designing a one-off house."

National Museum of Scotland, Edinburgh (£47.4m)
Gareth Hoskins Architects
"The "big moves" here are deftly delivered. This adaptation is sensitive and intelligent, enhancing both the building and the objects displayed within it. Fully accessible with a welcoming new ground floor entrance, the whole design encourages visitors to see every part of this important collection."

Scotsman Steps, Edinburgh (£0.5m)
McGregor Bowes + Haworth Tompkins
"This important shortcut within the multi-layered capital city of Scotland was long neglected. The experience for its users, while expedient, was anything but pleasant. Now the long climb is enlivened by the extraordinary variety of stones which form the new steps. The external structure, fully restored, is also revealed as something rich in delight."

Scottish National Portrait Gallery, Edinburgh (£11.5m)
Page\Park Architects
"The original gallery, designed by RIAS founder, Sir Robert Rowand Anderson, had been much messed around with over the decades. Its restoration removes the clutter and introduces new access and new lighting, creating something even better than its original architect's vision."

Wester Coates House, Edinburgh (n/a)
Zone Architects
"Providing three new homes on a tight site within a residential area, this new building utilises a simple palette of high quality natural materials and a very restrained external form to embrace interiors built to the highest specification and infused with light."
Back to March 2012