Ayrshire community councillor quits over Carbuncle bust up
March 2 2012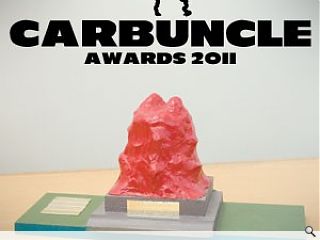 An Ayrshire community council official has resigned after becoming embroiled in a row with Provost Stephanie Young over the village's 'Whitehead' accolade in last year's
Carbuncle awards
.
Ronnie Andrew, treasurer of Fenwick Community Council, registered his frustration at official approval for a controversial scheme to build 400 homes in his village by posting the gong (and a sharply worded rebuke) to Young.
In it Andrew wrote that Young should tell three other councillors, who voted in favour of Mansell Homes development, to "stick the Plook award where the sun doesn't shine".
Recalling the ensuing fallout Andrew said: "At the next community council meeting the Provost makes a grand show of producing the Plook trophy and proceeds to read out the letter in an effort to embarrass me.
"It didn't work. She only embarrassed herself and the assembled company by shouting out this letter as though it were some sort of damning evidence. People were bemused.
"I didn't care that other members of the community council knew what I'd written – I've said worse to their faces."
Young, who voted against the proposals but was outvoted by colleagues, gave her own recollection of events to the Kilmarnock Standard: "At no point did I shout, I simply read out the note. I wasn't personally offended by the letter but I felt other people mentioned in it had a right to know what was being said about them."
Back to March 2012