Commonwealth Games retail & leisure park plans drawn up
February 29 2012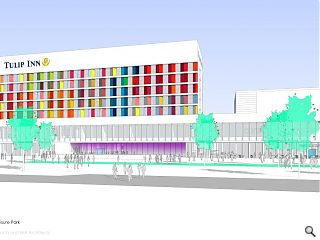 Reiach & Hall have submitted plans for a £44m retail and leisure park at Springfield Cross, adjacent to the National indoor Sports Arena, in the east end of Glasgow.
Dubbed The Arena, the scheme is being bankrolled by developer Kevin Fawcett, and is timed to capitalise on the upcoming 2014 Commonwealth Games.
Located at the junction of London Road and Springfield Road the scheme will be anchored by a 160 bedroom Tulip Inn hotel (the UK's first) and include a147 space underground car park..
It will be joined by a dental surgery, healthcare facility and a range of shops and restaurants alongside a further 143 surface parking lots.
The development will be linked to its namesake by way of a public piazza.
Fawcett said: "This development is an essential component of the regeneration of the area already being achieved by Glasgow City Council and Clyde Gateway, and will make a real difference to Glasgow's east end and most importantly those who live there."
Planners will appraise the scheme, which supercedes a
previous proposal from Progress Property
, in July with work commencing before the year is out if given the nod.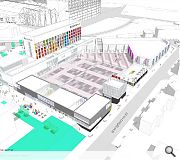 Development would abut Springfield and London Roads
Back to February 2012