BDP detail Technology and Innovation Centre plans
February 27 2012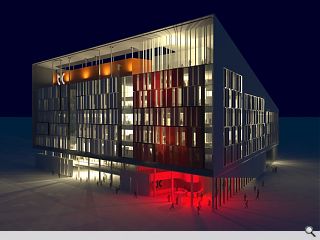 Approval of BDPs Technology and Innovation Centre (TIC) and Industry Engagement Building (IEB) marks one of the most ambitious city centre regeneration projects Glasgow has seen this side of the credit crunch - prompting Urban Realm to take a closer look at the latest iteration of the scheme.
Strathclyde University intend for the £89m facility to bolster their reputation as a leading international institution and to that end have hired architects BDP to design a landmark facility which befits those aims.
Its architects have adopted a triangular plan to exploit available site area and incorporated a ground floor 'shop window' which encourages pedestrians into a central 'forum space' beneath a central atrium.
East and west facades of the 25,000sq/m facility are cloaked in a solid skin of 'hit and miss' stone panels whilst the George Street façade sports a predominantly glazed façade to maximise northerly light.
In their design statement BDP state: "The TIC building has a deliberately expressive form, but rather than form making for its own sake, the building massing is a result of consideration of the brief and the site context. TIC is higher along the north frontage (rising to eight storeys) to take best advantage of diffuse natural light and to create a civic presence on George Street."
The IEB meanwhile is intended to relate to the TIC whilst being distinct from it. Housing five levels of flexible office accommodation the design deliberately steps back from George Street to allow the TiC building and a neighbouring residential to act as book ends, providing a landscaped buffer and civic space in the process.
A diagonal pedestrian link from here, dubbed New Street, will connect a series of outdoor spaces to improve city centre connections with the campus.
Site works are scheduled to commence shortly with completion expected around March 2014.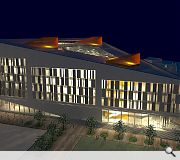 researchers, engineers and academics will work side by side in the facility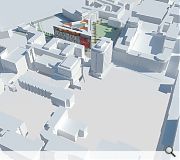 The scheme forms a key component of the wider Scottish Enterprise backed International Technology and Renewable Energy Zone
Back to February 2012