Stalled Garnethill redevelopment to restart
February 24 2012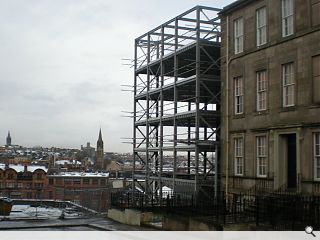 A half completed residential development which has lain abandoned since early 2010 on one of the most prominent development sites in Glasgow may finally see completion after Ogilvy Homes submitted amended plans for their stalled Garnethill scheme.
Hit by the 2008 downturn in the residential sales market and hampered by a lack of demand for car free developments the developer has struggled to sell the first phase homes, completing just three of the five blocks originally conceived.
One block was halted after the steel frame had been erected and the other only made it as far as ground level.
Now Ogilvy have submitted a revised planning application to finally complete the partially built block, with slight amendments to the design in order to accommodate additional residential floorspace.
This will also see the size of individual flats reduced in order to provide 28 one bed and studio flats as opposed to the original plan for 14 two bed flats. All other details will remain as consented, including the use of cast stone for the external finishes.
Ogilvy have promised to complete the landscaping around an adjacent viewing platform will proceed in tandem with this work.
Work on the fifth and final block will proceed thereafter.
In their design statement One Architecture comment on the plans: "The stone blocks vary in height and step across the typography with vertical slots of glazing giving a deliberately simple palette of materials and an uncompromisingly monumental scale on a steeply sloping and highly visible site."
Back to February 2012