Loughborough Design School completes
February 14 2012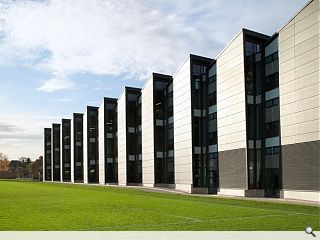 Burwell Deakins Architects have completed work on the £15m Loughborough Design School, home to the university's design disciplines.
Comprising workshops, studios and offices the centre has been configured to effect cross pollination of ideas between students, researchers and teachers in a sustainable environment.
A number of solutions were found to achieve this; including a bespoke lecture theatre arranged around a series of continuous benches with shared tables. This is intended to enable students to cluster naturally in small groups of four – believed to be the optimal number for collaboration and discussion.
The School is also arranged around a deep plan 30m floor plate structure underpinned by a series of 'chimneys' to facilitate natural ventilation and large glass windows, which help foster an environment of openness.
Externally the building presents its exposed concrete frame, also evidenced internally to create a high thermal mass which helps to regulate the building's temperatures.
Loughborough Design School is the first building to be completed under the University's East Park masterplan.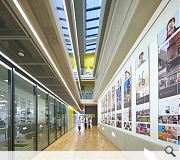 The construction cost for the build was under £2k per square metre
Back to February 2012