"Schoolboy" Denny redevelopment plans castigated
February 13 2012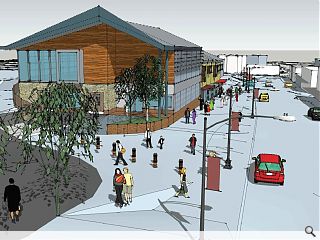 Indicative plans published by Falkirk Council of their long awaited regeneration of Denny have come in for some stick from locals after it emerged that a sketch perspective proudly displayed at a public exhibition contained several glaring errors.
These include external doors on the upper level of the planned pavilion which appear to lead nowhere other than a precipitous drop to the street below and a 'ground' level which has been sunk one level below the existing site topography.
Local campaigner Brian McCabe told Urban Realm: "Have a look at the plans and you'll identify very quickly the two doors to nowhere and two doors which would appear to open out underneath the car park!
"It's a schoolboy error which if your architectural technician drew up for you; you'd have him making tea for the next six months. It's so bloody amateurish."
Falkirk Council, who insist that they have a "strong architectural design record", are pushing ahead with the plans alone after Henry Boot Developments Ltd pulled out of a Keppie designed supermarket led plan.
Their leader, Cllr Craig Martin, said: We want to gauge the town's opinion as fully as possible and to this end have organised a wide ranging consultation that will allow people to express how they want to see their town centre transformed. Once we have your opinion we can incorporate this in preparing our application for planning consent."
The £6.5m development is intended to provide a replacement library and retail provision for that lost following demolition of the notorious "Church Walk" blocks - source of a
2010 Carbuncle nomination
.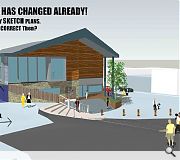 Locals have been left unimpressed by their Council's plans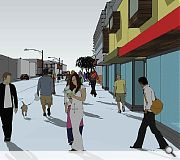 Long suffering residents fear they are swapping one Carbuncle for another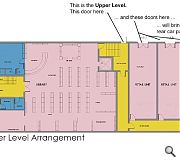 This floorplan elicited some confusion at a recent community meeting
Back to February 2012