Forth Energy withdraw plans for Leith biomass plant
February 9 2012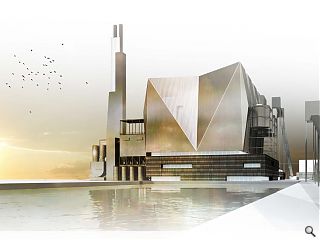 Forth Energy has announced that it is to scrap plans to erect a combined heat and power plant in Leith in light of fresh proposals to develop the Port of Leith as a hub for offshore renewables.
The decision puts an end to Gordon Murray Architects (since merged with Ryder) plans to create an architecturally expressive solution that recalled the influence of Antonio Sant'Elia in its massing.
The scheme may be resurrected at a later date once the full extent of renewables provision and energy demand has been determined.
Calum Wilson, Managing Director of Forth Energy, said:"Much has changed since we first applied for permission to build a CHP plant at Leith, not least the Port's emerging status as a hub to support the Scottish offshore renewable energy industry.
"We remain fully committed to bringing reliable, responsible, renewable heat and electricity to Scotland through our proposed developments at the Ports of Grangemouth, Rosyth and Dundee and, in the process, assisting the Scottish Government in achieving its ambitious 2020 renewable energy targets."
Forth Ports and Scottish and Southern Energy, joint venture partners behind the scheme, both remain committed to developing wood fueled CHP at the Ports of Grangemouth, Rosyth and Dundee.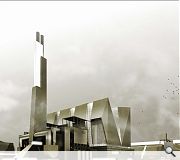 Murray's plans called for a clear distinction between vertical and horizontal elements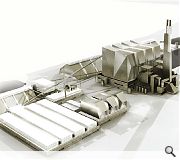 The plant was initially sold by Forth Energy as a symbol of 'environmental enlightenment'
Back to February 2012