RSNO unveil new headquarters
February 7 2012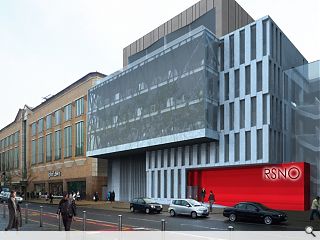 The Royal Scottish National Orchestra have unveiled plans to move to a new purpose built facility on Killermont Street, as part of a redeveloped north entrance to the Glasgow Royal Concert Hall.
The £14m development would provide rehearsal space, a learning centre, recital hall and a 600 seat auditorium - made possible by a £7m Scottish Government grant and £5m of support from Glasgow City Council.
The RSNO will raise the £2m shortfall and finance the fit out, including the latest internet based digital technology to facilitate increased connections with schools and community groups.
Designed by a team led by GCC's chief architect, Kerr Robertson, the scheme is expected to commence construction in autumn 2012 and complete by summer 2014 – subject to planning permission.
Leader of Glasgow City Council Gordon Matheson: "We're delighted to be investing in one of Scotland's premier performance spaces, which will create a centre of musical excellence for both the city and nation. These ambitious plans will help to realise new ambitions for the RSNO and enhance the Glasgow Royal Concert Hall as a world-class performance space. The physical refurbishment will also offer Glasgow Music greater flexibility in attracting both new and existing talent to the performance space."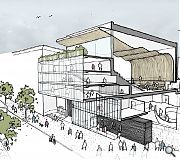 The Glasgow Royal Concert Hall's northern entrance will be remodelled
Back to February 2012