Site visit: Collegelands
February 3 2012
Glasgow's High Street has come a long way in a surprisingly short span of time, recovering from 40 years of neglect to host new homes, student residences (albeit poor quality), a Strathclyde University science park and new offices – even some scruffy tower blocks on Duke Street have been given a lick of paint.
Urban Realm spoke to Paul O'Donnell, Dawn's director of development responsible for by far the biggest development,
Collegelands
, to find out more about the transformation of a former goods yard there: "This was, probably, the biggest derelict site in any city centre in the UK –about 16 acres. How many cities have had a derelict site in their midst for 40 years?
"The topography of the site lent itself to the car park going where the vaults used to be. All the whisky came here from the Highland distillers before being taken to Greenock and exported all over the world."
Chief aim of the project is to create a critical mass of footfall to enable viability of shops, bars and restaurants along newly established streets and through routes. Amongst them a reinstated Havana Street and a New Station Street parallel to the Molendinar Burn (remodelled as a canal/water feature, SUDS pond) – reflecting aspirations to turn High Street Station into a new transportation hub.
O'Donnell refused to be drawn however on tentative long term plans to construct a high speed rail terminus on an adjacent plot saying: "I don't want to comment on that because you'll be retired and so will I."
Principle feature of the development is a retained brick wall along Duke Street, "everybody thought it was listed but it wasn't", remarked O'Donnell. "We didn't have to keep it but David Page (the architect) used that as a theme for the rest of the development. The whole masterplan won't be exactly the same, there is a certain degree of diversity to it, but it will be themed on that.
"Ideally when people take a photograph here in years to come they'll say, that's Collegelands."
Eyeing Blackfriars student village opposite, designed by MCM architects for developer Unite, O'Donnell said: "We had a choice to make. Do we want to replicate what's there? Because that is a very cheap and economic form of construction, or do we want to create a place. Here it's all high quality finishes. It would have been very easy for us to turn round and say we're going to have concrete paving, poor quality landscaping, we're not going top put the canal in… but locations like this are going to have to set themselves apart from other locations and try to attract inward investors."
"Although it's a big capital cost upfront its very low maintenance costs."
Although phase one works have now completed there is no current start date for phase two works, with a hotel operator still being sought. Existing brownfield land fronting High Street will therefore be landscaped and returned to use as a car park awaiting commencement of further commercial development.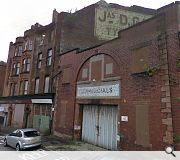 A retired GP, owner of this entire tenement, has plans to refurbish the property in light of developments.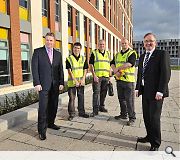 Dawn's Paul O'Donnell poses alongside Glasgow City Council leader Gordon Mathieson and three apprentices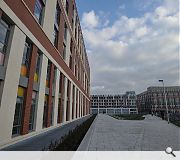 The new city quarter is already bustling with the arrival of some 600 students
Back to February 2012