Kilmarnock car park in line for makeover
February 3 2012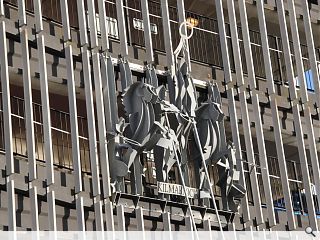 A drab Kilmarnock car park is in line for a much needed injection of colour after its gable artwork emerged as the unanimous winner of Brighten Scotland, a competition to find the most deserving corner of the country for a free makeover.
Foregate car park was the clear winner in the
colourful competition
, paving the way for the concrete and steel beast to be taken down and transformed using the Colourgalv galvanising process.
The steel sculpture has been in-situ since the 1990's but has remained largely unnoted by motorists and residents due to its grey finish blending into its surroundings.
Geoff Crowley, Managing Director of Highland Galvanizers & Colour Coaters said: "This winning structure perfectly demonstrates the philosophy behind Brighten Scotland.
"The mounted sculpture is a beautiful piece of art but blends into its surroundings instead of standing out.
"Giving the artwork a colour coating will draw attention to the detail of the sculpture and breathe new life into Kilmarnock's main shopping area."
Councillor Jim Buchanan, spokesperson for Delivering Community Regeneration of East Ayrshire Council which will decide the colour scheme, said: "We're delighted that Kilmarnock's Multi Storey Car Park has won this striking makeover.
"This treatment will give a new emphasis to the design of the metalwork on the building and provide a strong focal point for Kilmarnock Town Centre at a time when we are actively regenerating and promoting it as a great place to work, shop and live."
Back to February 2012