Collegelands office scheme opens its doors
February 2 2012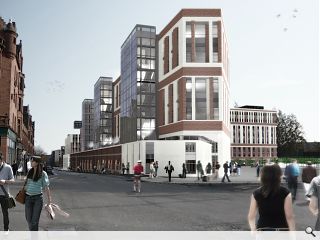 An opening ceremony has been conducted for the latest phase of Glasgow's Collegelands development to complete, a 100k sq/ft office block located on the historic High Street.
Situated on a former railway goods yard the scheme is described as Glasgow's 'first new city centre quarter in decades' and will ultimately comprise some 1.1m sq/ft of commercial and residential space.
A 600 bed student housing development and 1,220 space multi storey car park have already completed.
Designed by Page\Park architects on behalf of Dawn developments in a red brick warehouse style the development retains a former boundary wall on Duke Street of the former yard.
Glasgow City Council has assumed tenancy of the building and will move in on February 6.
Councillor Gordon Matheson, the Leader of Glasgow City Council, said: "The Collegelands development has generated £80million of economic activity in the city, and the Grade A office space opening next week will become a symbol of the regeneration of this part of the city. This development breathes new life into a site that has historically been of great significance to Glasgow, and I look forward towards its continued transformation."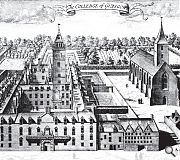 The buildings shown in the 17th Century print show the site as it would have been recognised by leading thinkers from the Scottish Enlightenment of the next century, such as Adam Smith - who was a professor there
Back to February 2012