A listed Irvine church to be refurbished
January 17 2012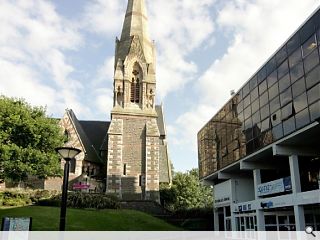 Refurbishment of an A listed Irvine church is to commence this week after Clark Contracts were appointed to carry out advance works ahead of the comprehensive repair of the main hall and conservation work to its tower and spire by ARPL architects.
Facilitated by a £500k grant by Historic Scotland the work follows on from earlier work to install a new roof and clean up of the neglected building.
The refurbished church is being marketed as an opportunity for a new restaurant or public house by the regeneration agency Irvine Bay – for which it already has planning approval.
Patrick Wiggins, chief executive of Irvine Bay, said: "This is another important stage in bringing this iconic building in the centre of Irvine back into life. Much has already been done to secure and clean up the building, and now we are beginning the process of preparing it for a new lease of life."
It is expected that the fully renovated church will be available from spring 2013.
In separate developments
Austin-Smith:Lord are acting as architects for £2.4m worth of public realm work
to the neighbouring environment whilst
Ian Springford
is progressing plans for the redevelopment of the adjacent Bridgegate House.
Back to January 2012