Scottish Parliament plans derided
January 12 2012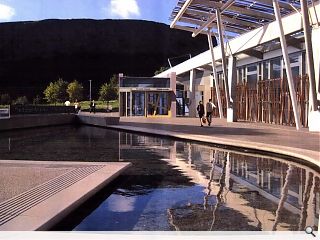 Edinburgh City Council's chief architect has waded into a row over the appropriateness of security upgrades around the Scottish Parliament building after branding the latest plans for a new 'external security facility' as "disrespectful".
The plans, tabled by local architects Lee Boyd, call for a new Kenmay granite clad public entrance to the parliament, attached to the controversial Miralles/RMJM edifice by a glazed link.
Describing the plans in their design statement Lee Boyd said: "The proposed design of the new External Security Facility is respectful of the original architectural intent and is also influenced by the strong lines in the landscape. These contours are reinforced by the solidity of the Kemnay granite walls which clad the principal walls of the new facility.
"The new entrance to the building is set between these walls in a fully glazed façade, providing a high level of transparency and views to the park and landscape beyond. This connection with the landscape and external spaces is further emphasised by the continuation of the pattern and materials of the existing external hard landscaping in the design of both the floor and roof finishes, which seamlessly flow through the building."
Previously the Parliament was
ridiculed for installing 162 bollards and 18 concrete benches
, at a cost of £1.5m, to deter ram-raiders.
The works have been instigated at the behest of MI5.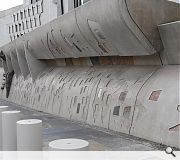 Peter Wilson has described the security precautions as "a load of bollards"
Back to January 2012