Approval granted for Raasay residence
January 9 2012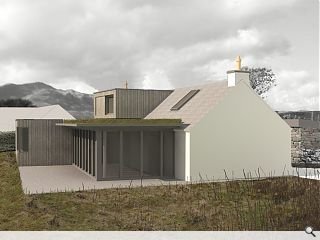 Planning approval has been awarded for the extension of an unprepossessing family home on the Isle of Raasay to form a living space more befitting of the 21st century.
Adopting a low impact design Brighton based a:b:i:r architects have prepared a "low impact design" whilst incorporating open plan living, dining, play and contemplation spaces which maximise extensive views to the south.
Stone walls of the existing house form the heart of the proposals which forms an abstracted 'L' shape to provide external shelter from prevailing winds. Clad in Scottish timber (intended should be sourced from Highland Region) the extension will feature a new external stone wall to act as a marker for the entrance and connect with the landscape.
An external overhang will help to reduce solar gain during the summer months and a green roof provides natural insulation.
In their design statement a:b:i:r said the scheme "opens to the garden creating a physical link as well as a visual link to the wider landscape. This spaces also acts as 'buffer' between the outside and the more solid interior of the house and imagines a process of 'retreat' from wild (landscape, weather) to light protection (extensive views, glazing) to enclosed (heart & hearth)."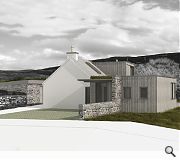 A locally sourced feature stone wall will act as a focal point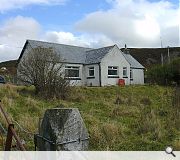 The property as it exists currently
Back to January 2012