Trump Clubhouse handed Zit award
December 22 2011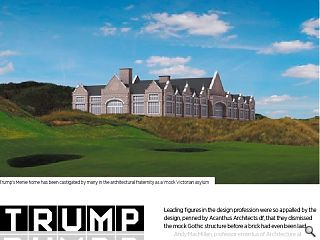 Donald Trump's Menie Clubhouse has been handed a Zit Award for Scotland's worst building - despite the fact it hasn't even been built yet.
The accolade was bestowed upon the mock gothic design in recognition of its misguided attempt to blend in with the historic MacLeod House.
Michael Rasmussen, architect & fellow of the Royal Incorporation of Architects, told Urban Realm: "The building was designed by Huntly architects Acanthus df, who in the past have turned out some very fine buildings. If one is to design a pastiche of an historic building then at the very least it needs to be true to the scale, style and proportion of the period – this building is none of those. With the Menie Estate's location within a landscape of heroic importance, Acanthus have a duty to society, the environment & their profession to produce a building that befits such a wonderful and unique setting.
"By producing this third rate building a golden opportunity has been lost to create a sublimely elegant, understated, contemporary building that could have been a beacon for the best that Scottish Architecture. We have the talent – what a shame it was not utilised in this instance.
"One can reflect that this is most likely a classic example of an architect being "told" what to do by his wealthy and powerful client & in so doing relegating a noble profession to nothing more than a second rate draftsman. What price integrity – when sold out for the might $. Resignation from the commission would have been an honourable solution. Shame on you Acanthus."
In a separate award Aberdeen City Council's decision to press ahead with a contentious competition to reshape the city's Union Terrace Gardens earned the authority a Pock Mark Award for worst planning decision.
Back to December 2011