North Lanarkshire Council turn down Fraser's 'waterside village'
December 21 2011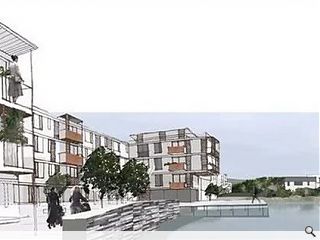 Plans to erect a new waterside town near Shotts have been thrown into disarray after North Lanarkshire Council voted to reject the scheme.
Hazeldene Homes had planned to invest some £20m for the first phase of the scheme, incorporating some 120 homes on brownfield land designed by Malcolm Fraser architects.
A further £65m would have subsequently been ploughed into the creation of a man made lake, pier, cafes, shops and some 1,000 homes.
This was rejected by Councillors however on the grounds that the development was contrary to the area's local plan and would see new homes built adjacent to an industrial area used by heavy goods vehicles.
Branding the decision as "farcical" Hazeldene's chairman, Mark Shaw, said: "We've just seen four years of hard work, consultations with council officials, the local people and their council representatives go down the drain.
"Clearly, North Lanarkshire has no need for investment, jobs or community regeneration.
"The process is farcical, and no attention was paid to the work we have done, the guidance we were given or the solutions proposed."
Fraser had previously described the scheme as "a real place with a heart and soul" and not the typical "suburban creep that has blighted so much of Scotland".
Back to December 2011