Maggie's Aberdeen designs unveiled
December 16 2011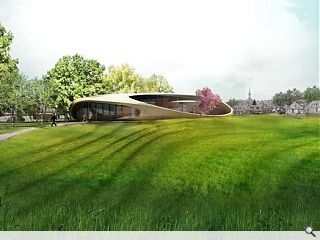 Norwegian architecture firm Snohetta have submitted their £3m design for a new Maggie's Centre at the city's Royal Infirmary.
Conceived as a pavilion in a parkland setting the development sports a curvaceous concrete exterior contrasted with a more angular, soft timber interior.
The centre will sit at the heart of a grass field behind a line of retained maple trees, with a group of beech trees marking the main entrance.
A courtyard garden will provide a secluded outdoor space at the heart of the development.
Laura Lee, Maggie's chief executive, said the centre's "striking" design would "greatly contribute" to architecture in the city.
Lee added that the Centre "encapsulates the Maggie's brief in providing a space that is homely and full of warmth, while sparking curiosity and imagination from its visitors."
Maggie's co-founder Charles Jencks added: 'Coming from the Norwegian culture, Snøhetta has great insight into the life and landscape of the Scots – particularly Aberdeen, a short hop from Oslo. Their mixture of a warm interior of furnishing embraced by a protective shell strikes just the right balance for Maggie's.'
Back to December 2011