Scottish Design Awards issue call for entries
December 8 2011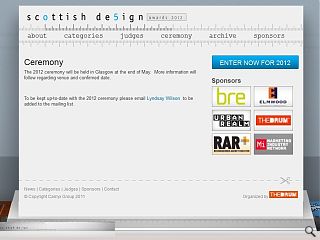 With 2011 now in its last gasp The Scottish Design Awards have issued a call for entries for their 2012 awards program, just days after the
Carbon Trust launched their low carbon building awards
.
As ever the event aims to recognise the best graphic and architectural design in Scotland. It offers a unique platform from which designers and architects can come together to showcase their talent.
No other awards process brings together these related though distinct disciplines, offering both sectors an opportunity to come together and applaud the achievements being made in the creative sphere.
Entries for the award must be received no later than Friday, March 9, but anyone quick out of the blocks with a submission prior to January 6 will receive a 20% discount.
The annual architectural banjoree will culminate in a gala dinner this summer to provide a much needed fillip to an industry recovering from the ravages of the recession.
So don't delay, submit today to be in with a chance of seeing your project crowned as the nation's best.
This year's judges include; Duncan Whatmore, Urban Design Consultant at Terry Farrell & Partners; Catherine Slessor, editor of the Architectural Review; Stephen Hodder, chairman of Hodder & partners; Gillian Horn, partner at Penoyre & Prasad; Jim Heverin, associate director of Zaha Hadid Architects; Jason Flanagan, director of BFLS; Richard Woods, senior associate director of Capita Symonds; Adrian Griffiths, owner Chapman Taylor and Gerry Grams, design adviser for Glasgow City Council.
For more information on the entry process please contact lyndsay.wilson@carnyx.com 0141 559 6063, who will be more than happy to help, or log on to
www.scottishdesignawards.com
.
You can keep abreast of ongoing Awards news as it happens by following us on twitter http://twitter.com/carnyxevents
Back to December 2011