Glasgow's tallest towers to be knocked down
November 25 2011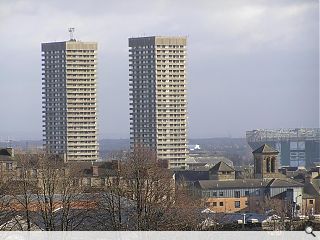 Glasgow's very own 'twin towers', a dystopic vision of social housing policy gone wrong, are to be demolished in the latest phase of east end regeneration.
The Bluevale and Whitevale Street towers, each rising to 91m, are 31 storeys apiece containing 348 flats between them.
Resident surveys however show that 43 years after they were built the towers are no longer a popular address.
Low rise housing is set to take their place as the wider Gallowgate district is designated as a 'Transformational Regeneration Area'.
Glasgow Housing Association has taken the decision to demolish them within two years, ensuring they will be absent come the 2014 Commonwealth Games.
London's Barbican aside they are the tallest blocks of public housing in the United Kingdom.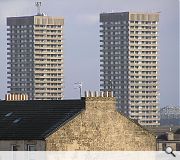 Remaining tenants are already in process of being decanted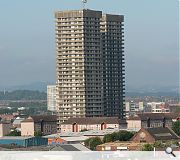 Two additional levels within the vertical slatted area at the towers summits, a drying room and winch level, lift the towers 6ft above Red Road
Back to November 2011