Kingcase Housing earns Saltire accolade
November 25 2011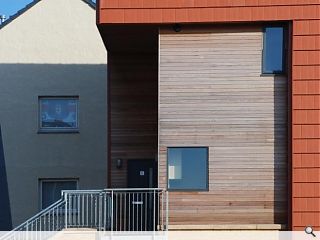 A partnership between Ayrshire Housing and Kingcase Parish Church to deliver
ten homes for affordable rent
whilst extending church's existing hall has been commended by the
Saltire Awards
.
Designed by ARPL the scheme comprises four houses and six flats, arranged around an entry courtyard on left over wasteground to the rear of the existing church.
Striking orange tiling was used as an external cladding material in order to enliven the surrounding "dour" environment.
Guest chair of the awards, Malcolm Fraser, said: "we really liked what Ayr based ARPL architects have done. They've taken a non-descript scrappy bit of ground and created a real sense of place. It's not only a great bit of architecture but it's clear from speaking to the delighted residents that the design has fostered a wee community".
Back to November 2011