Edinburgh Castle Olympic rings display blocked
November 23 2011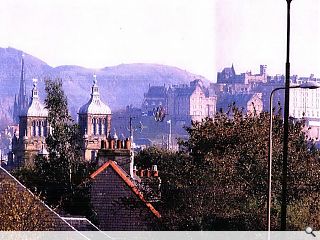 Plans to turn Edinburgh castle into a giant advertising hoarding for the London Olympics have been stymied after Historic Scotland stepped in to block the initiative.
Organisers of next year's games had hoped to suspend five giant 8m high aluminium rings from the Castle's ramparts - but the heritage quango claimed that the installation would interfere with the day to day running of the attraction.
The
London Organising Committee of the Olympic and Paralympic Games
(LOCOG) had hoped to have the rings in place over a nine month period.
In a statement a Historic Scotland spokesperson said: "Following careful consideration it is clear that the proposal would not be suitable for the successful operation of Scotland's most popular heritage attraction.
"It may well be that there are other more suitable sites in Edinburgh, and the Scottish Government and agencies will work with LOCOG and The City Edinburgh of Council to do what we can to assist with the consideration of alternatives.
"We fully support the Olympic Games and we look forward to hosting the Speed of Light event on Arthurs Seat to combine visual art with sporting endeavour and a number of our sites are on the Olympic Torch Relay route, including Edinburgh."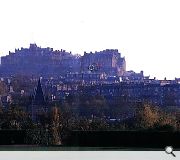 It's unlikely that Edinburgh would promote Glasgow's Commonwealth Games in such a way either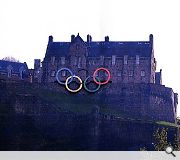 The stunt was intended to illustrate the UK benefits of the London event
Back to November 2011