Dundee videogame education centre recognised
November 23 2011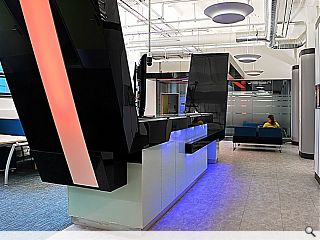 The Dundee Institute of Architects have recognised Archial's work on the interior of their National Centre of Excellence in Computer Games Education, with an award for best interior design project.
Built for the University of Abertay the Centre has been designed to enable to assist graduates in making a commercial success of their ideas and to drive the future success of the industry internationally.
Refurbishment works saw the use of sculptural high gloss acrylic throughout in an effort to reflect light, energy and movement - key attributes of videogame design.
This is used in combination with a translucent stretch membrane behind, upon which are placed coloured LED lights which can be controlled by students to enhance their presentations.
Back to November 2011