Borders Council turn down housing application - on design grounds
November 16 2011
Borders Council have rejected an application by Springfield Properties to erect 82 homes on farmland in West Linton – because they don't like the design.
Noting high aspirations for the site a committee observed that the development offered nothing more than a "standard suburban layout with limited character and little charm."
It marks a rare instance of design factors being given critical consideration and is being seen as a possible test case.
A spokesperson for Springfield said their plans incorporated a series of "courtyards and small clusters of dwellings, linking with shared surfaces using street furniture and both soft and hard landscaping delineate the areas of pedestrian, cycle and vehicle access."
However planners raised concerns over a refusal on the part of Springfield to explain what their intent was in relation to retention of existing steading buildings. They also spoke out against a planned 'entrance square' which was deemed by roads planning officers to amount to little more than a roundabout.
Further discord was raised at committee when it was noticed that elements of the proposed layout "appear to incorporate a direct replication of elements included in a proposed layout from a recent planning application by Persimmon Homes for housing at Easter Langlee, Galashiels."
A source told Urban Realm: "This should send a strong message to the volume builders that off-the- shelf approaches to layout and building design dilute local identity and sense of place. The policy framework has been there for some time - it's good to see a Council finally having the guts to use it."
The applicant has yet to decide whether to abandon the £20m scheme – or come back with an alternate design.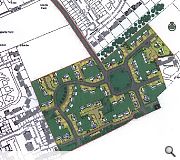 Planners gave Springfield's design short shrift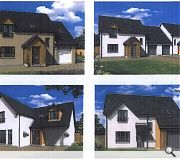 Typical house designs
Back to November 2011