BIM Scotland discussion kicks off
October 27 2011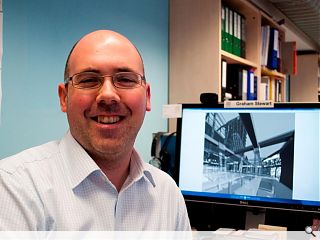 Tonight a host of leading architects, politicians and engineers are gathering at the Lighthouse to discuss Building Information modelling, BIM, a software solution for construction professionals. Here Graham H Stewart, Senior Structural Technician Buro Happold, talks Urban Realm through the key features of this game changing technology.
Tonight the great and the good of our industry will gather at the BIM Scotland event and it's sure to be a lively chat.
It's one of those topics that generates a potent mixture of curiosity, passion and concern among our peer group. With the UK Government's Construction Strategy requiring a fully collaborative 3D BIM (with all project and asset information, documentation and data being electronic) as a minimum by the 2016, this deadline seems to have sharpened the focus of the debate even more.
I'm sure there will be a variety of views aired. My tuppence worth will be squarely tied to one simple point: BIM is not a software solution – it's a process. The technology is in place, however the real paradigm shift we need to embrace is the way teams share information and work together. The term we prefer to use is Virtual Design Construction. By sharing building models early in the process it allows the design team and others to collaborate in the 3D environment to minimise errors and spot potential problems sooner before they become a live issue on site.
Looking beyond the technological innovations, what will make this work is good old fashioned trust. Partners need to buy into this ethos which means sharing plans earlier and really trusting in eachother's ability. To help this along, the discipline of preparing a BIM Execution plan is essential to agree the 'rules of engagement' and ensure that there is a reference point for the collaboration.
Let's be clear here. It's not about reinventing the wheel. Good multi-disciplinary working has long been a strong tradition in the UK construction sector, often borne out of a necessity to keep pace with the increasingly stringent demands of specifiers and legislators. Virtual Design Construction takes this ethos to the next level through achieving productivity gains which help to reduce conflicts and changes in design thus reducing the need for reworking.
For the industry to meet the 2016 deadline we need clear guidelines of how the legislation will be implemented. However, even more importantly, access to good quality training opportunities need to be as widespread and inclusive as possible. From Universities through all sizes of business on the front line, the knowledge base needs to grow evenly across all key stakeholders. I would expect that the legal implications i.e. 'who owns the model!' may on the agenda tonight. However before we even hit on this important detail what is important is that there is a clear consensus around how we work together. Events like this one are a good starting point.
Follow the discussion at #BIMSCOTLAND
Back to October 2011