Carbuncle town gets prime time airing on BBC1
October 25 2011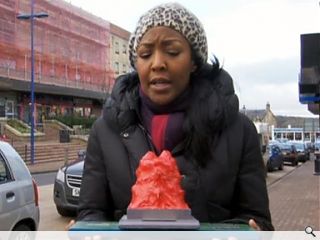 The One Show's Angelica Bell has paid a visit to Denny following the town's receipt of the Carbuncle Award 2010.
Presenting the clip to a national audience Bell said: "Last year Denny was awarded THIS, The Carbuncle Award, given annually to Scotland's most dismal town. A dubious award you'd think, but one which the residents here were actually glad to receive."
Conducting a number of vox pops around the blighted town centre Bell discovered the strength of ill feeling against the eyesore centre at first hand. "It's good that we did win it" noted one resident, "because the town centre is ugly and people need to take note to get the town centre regenerated."
Another local added: "We won the Carbuncle Award for what I call the blancmange in the centre of town."
This view was echoed by a third interviewee who chimed: "The centre of Denny is an absolute eyesore; it should have been knocked down years ago."
The exchange is available to view on
BBC iPlayer
and copied below.
This year Denny's west coast compatriot Linwood is in the running alongside Fort William and Nairn for the infamous award.
Back to October 2011