Union Terrace Gardens debate commences
October 19 2011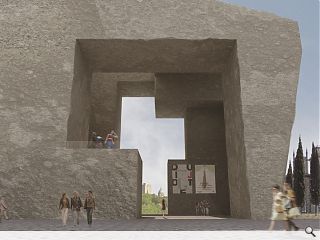 As Aberdeen's
City Garden exhibition
opens its doors to a curious public a furious debate has erupted in the press as to the merits (or otherwise) of the ambitious plans.
In The Scotsman Urban Realm editor John Glenday spoke of the "Green challenge of Red Square proportions" facing the design teams, writing: "'You can't see the wood for the trees' is a phrase readily applied to Aberdeen's resident tycoon, Sir Ian Wood, who has put Aberdeen City Council over an (oil) barrel in his dogged pursuit of his personal vision for a new city garden."
Of principle concern is that this has come at the expense of at the expense of Brisac Gonzales Architects Peacock Visual Arts Centre.
"Perhaps we should be looking again at Gonzalez's seventh offering. Why isn't that scheme on the table to make for a truly democratic competition?
"Extrapolating the existing pedestrian fabric to lure in passing pedestrians works with the axial nature of Union Street rather than against it", is fine in principle, Glenday noted. But: "Fundamentally this should be an exercise in place making, not space making and none of the schemes presented convincingly make this case.
"Aberdeen is a city of organic nooks and crannies, not of 'Grands Projets'."
Over at The Herald Glenday noted that these were six "great solutions to a problem which doesn't exist", stating: "The Gardens in their present form already provide a green oasis in the Silver City, suggesting that Wood might be leading the city up the garden path with his own scheme.
"Nonetheless if the premise of the competition is accepted then there are some highlights to be found here, notably the multi-tiered cobweb of granite pathways evident in scheme one."
Whether this scheme is realisable in its imagined form (or any other scheme for that matter) remains moot.
Back to October 2011