Demolition commences on twin Ibrox towers
October 17 2011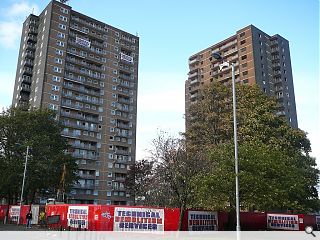 The UK's tallest demolition crane, a 67m long-reach telescopic arm weighing over 200 tonnes, has been unleashed on two unwanted Glasgow tower blocks as part of a regeneration effort.
The high flats are the latest in the Ibrox district of the city to be chomped as the 22 storey flats are nibbled back down to earth.
198 properties will be lost under the plans, their occupants rehoused by GHA and other social landlords.
Plans are being drawn up for the regeneration of the site, including the £7m rehabilitation of the remaining block for key worker housing.
A similar, marginally shorter crane, was used to bring down the nearby Broomloan Court complex.
Technical Demolition Services have been appointed to oversee the work.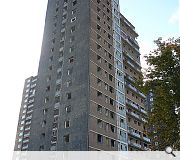 A leisurely demise is plotted for these towers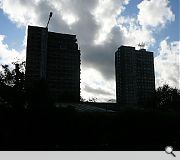 One tower, 15 Ibroxhol Oval, was granted a last minute reprieve when the Scottish Gov stepped in with a £1.1m cheque
Back to October 2011