Borders cottage Weaves its spell over Roses judges
October 17 2011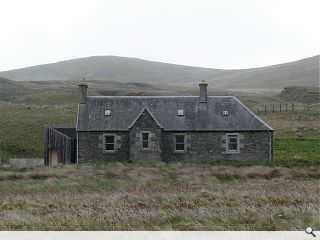 An unprepossessing Weaver's Cottage near Selkirk has secured one of the biggest prizes in regional British architecture after being bestowed with the Roses Design Award Chairman's Award 2011.
The rural stone built cottage has been extensively refurbished and extended via a fire blackened timber addition by Reiach and Hall Architects to secure gold in the low cost building category.
The practice proved to be big winners on the night with Gold's for Dundee House and Maggie's Lanarkshire alongside silver for an extension of Stobhill Hospital and bronze for Glasgow Royal Infirmary – earning them the title of architectural practice of the year.
Commenting on their wins the practice stated: "Winning awards like these takes years of hard work from everyone in the design and construction team and it's a great recognition of the effort involved. Especially pleasing is the Practice of the Year Award.
"This shows that there is real strength and depth across all our staff and that their high standards are being recognised by our peers. We are delighted."
Reiach & Hall didn't have things entirely their own way however, Aedas won the Grand Prix Award with their Darwen Aldridge Community Academy building.
From left to right: Patrick Thesis – Thesis & Khan Architects; Hendrik Heyns, Allies & Morrison & Chris Abell of abell nepp discuss the winners.
A full list of results are displayed below:
Roses Design Awards 2011
Architecture Results
Architecture Grand Prix
Company: Aedas Architects Ltd
Client: The Aldridge Foundation
Title: Darwen Aldridge Community Academy
Chairman's Award for Architecture
Company: Reiach and Hall Architects
Client: Rodger Ackling and Martin Cook
Title: Bothy at Ettrick Valley
Architects: Reiach and Hall Architects
Main Contractor: Robert Reid – Joinery and Building
Structural Engineer: SKM
Photographer: Reiach and Hall Architects
Architectural Practice of the Year
GOLD
Reiach and Hall
NOMINATION
Aedas Architects
NOMINATION
Collective Architecture
NOMINATION
Austin-Smith:Lord
Lighting Design
SILVER
Company: Walker Simpson Architects
Title: Fielden Campus
Architects: John Walker, Laura Strafford and Adam Gray
M&E – John Eccles
Quantity Surveyor – Ian Bryning (Simon Fenton Partnership)
Structural Engineer: David Heron – Arup
Project Management: Ayaz Patel
Photography: Daniel Hopeinson
Contractor: Wates Construction
Interior Design
SILVER
Company: 442 Design Ltd
Client: Campass Group
Title: Grasslands Restaurant – Edinburgh Zoo
Managing Director: David Dunn
Interior Designer: Marie Anne Ritchie
Graphic Designer: Michelle Ridley
Contractor: Dimension Shopfitting
Contractor: Eastern Exhibition & Display
NOMINATION
Company: 442 Design Ltd
Client: Campass Group
Title: The Jungle Food Court – Edinburgh Zoo
Managing Director: David Dunn
Interior Designer: Marie Anne Ritchie
Graphic Designer: Michelle Ridley
Contractor: Dimension Shopfitting
Contractor: Eastern Exhibition & Display
NOMINATION
Company: West Design Consultants
Client: ASICS
Title: ASICS Amsterdam Flagship
Creative Direction: Jason West
3D Design: Matt McKinney
3D Design: Lee James
Graphic Design: Jake Beddow
Graphic Design: Neil Howarth
Architectural Design & Project Management: Laurent Godel
Lighting Design: Stuart Moth & Darren Orrow
Retail Design Guidelines: Formation INC. Tokyo
Regeneration
SILVER
Company: Collective Architecture
Client: Sanctuary Scotland Housing Association
Title: Linwood Regeneration
Architect: Collective Architecture (Andrew Gower)
Engineer: Scot Bennett Associate
Contracts Manager: Turner and Townsend
Contractor: Ashleigh Scotland Ltd
Photographer: Andrew Lee
SILVER
Company: Fergus Purdie Architects
Client: Arthur Watson
Title: Artist Studio
Architect: Fergus Purdie
BRONZE
Company: Walker Simpson Architects
Client: The Manchester College
Title: North Manchester Sixth Form College
Director: John Walker
Project Architect: Martin Boydell
Mechanical & Electrical Design: John Eccles
Environmental Services Design: Steve Levratvt
Quantity Surveyor: Ian Bryming (Simon Fenton Partnership)
Structural Engineer: Arun P (Arup)
CDM Coordinator: Bill Jenkins (Jenkins design Services)
Project Manager: Ayaz Patel
Architectural Photography: David Hopkins
NOMINATION
Company: WASPS
Title: The Briggait
Residential
SILVER
Company: Studio Octopi
Title: Orchard House
Architects: Studio Octopi
Engineers: Milk
Contractor: Nigel Lloyd
Affordable Housing
BRONZE
Company: Austin-Smith:Lord LLP
Client: Bield Housing Association
Title: 10 Pearce Street
Architect: H Rutherford (ASL)
Assistant Architect: Neil Alexander (ASL)
Civil Engineer: Brian Hanley
Electrical Engineer: Norrie Ferguson
Mechanical Engineer: Ian Hathaway
Quantity Surveyor: Raymond O'Neill
CDM Co-ordinaitor: John Cowan
Leisure/Culture Building or Project
NO NOMINATIONS
Health Building or Project
SILVER
Company: Reiach and Hall Architects
Client: NHS Greater Glasgow and Clyde
Title: New Stobhill Hospital Ward Extension
Architects: Reiach and Hall Architects
Main Contractor: Balfour Beatty Construction Ltd
Structural Engineers: SKM
M&E Engineer: DSSR
Quantity Surveyor: Balfour Beatty Contruction Ltd
CDM Co-ordinator: Capita Symonds
Landscape Architect: Horner + Mac Lennan
Acoustic Consultant: New Acoustics
Photographer: Michael Wolchover
BRONZE
Company: Reiach and Hall Architects
Client: NHS Greater Glasgow and Clyde
Title: GRI-ICU
Architects: Reiach and Hall Architects
Main Contractor: BAM Construction Ltd
Structural Engineers: SKM
Service Engineers: Hulley and Kirkwood
Quantity Surveyor: Storrier and Donaldson
CDM Co-ordinator: WSP Risk Managment
Photographer: Dave Morris
NOMINATION
Company: Ingenium Archial
Client: NHS Tayside
Title: Broxden Dental Care
Architect: Graham Whitters (Ingenium Archial)
Landscape Architect: Mark Donaldson (ERZ Ltd)
M&E Consultants: Gregor Pattison/Paul Tobia
Structural Engineer: Paul McKay – Woolgar Hunter
Quantity Surveyor: Jim McVie
Education Building or Project
Gold
Company: Aedas Architects Ltd
Client: The Aldridge Foundation
Title: Darwen Aldridge Community Academy
SILVER
Company: ARPL Architects
Client: South Ayrshire Council
Title: Colmonell Primary School
Architects: ARPL Architects
Structural Engineers: Hodgin Smith Partnership
Environmental Engineers: FLN Consulting
Quantity Surveyors: Armour Construction Consultants
CDM Co-ordinators: HSP CDM
Main Contractor: Ashleigh Construction
SILVER
Company: Austin-Smith:Lord LLP
Client: Stockport College
Title: Stockport College Phase 1a
Architects: Victoria Alderton (ASL)
Quantity Surveyor: Ian Bryning (The Simon Fenton Partnership)
Structural Engineer: David Knight (Deakin Walton Consulting Engineers)
M&E ESD: Laura Dunlop (Formerly Operon)
Contractors: Shane Benson (Wates Construction)
BRONZE
Company: Roger Stephenson Architects
Client: Trafford College
Title: Trafford College – New Learning Resource Centre
Project Director: Robert Evans
Project Architect: Andrew Bamford
NOMINATION
Company: Austin-Smilth:Lord LLP
Client: UWIC
Title: Cardiff School of Management
Project Partner: Martin Roe
Project Director: Tim Young
Project Architect: Andrew Lewis
Interior Designer: Kate Smith
Architectural Assistant: Mark Russin
Photographer: Morley von Sternberg
Photographer: Tom Roe
NOMINATION
Company: John Mcaslan + Partners
Client: Lancaster University
Title: Charles Cater Building
Project Architect: Alan Palmer (John McAslan + Partners)
Project Manager: Andrew Trollope
Quantity Surveyor: Steve Roche (Gardiner & Theobald)
Structural Engineer: Elizabeth Duffey
Structural Engineer: David Davies (WYG Engineering)
Services Engineer: Michael Lecky (Breeam Consultant)
Landscape Consultant: Nick Bowen (Ian White Associates)
Contractor: John Curling (Galiford TRY Contrsuction)
NOMINATION
Company: Malcolm Fraser Architects Ltd
Client: Royal Scottish Academy
Title: Speirs Lock Studios, Glasgow
Architect: Malcolm Fraser
Architect: Clive Albert
Architect: Robin Livingston
Architect: Christine Leeman
Commercial/Offices Building or Project
GOLD
Company: Reiach and Hall Architects
Client: Dundee City Council
Title: Dundee House
Architects: Reiach and Hall Architects
Main Contractor: Lend Lease
Structural Engineer: Buro Happold Ltd
M&E Consultant: Buro Happold Ltd
Quantity Surveyor: Turner and Townsend Cost Managment
CDM Co-ordinator: Reiach and Hall Architects
Lighting Consultant: Speirs Major/Buro Happold/Reiach and Hall
Photographer: Dave Morris
Public Building
NO NOMINATIONS
Proposed Building
GOLD
Company: Collective Architecture
Client: Glasgow City Council
Title: Argyle Street Upgrade, Glasgow City Council
Architects: Jude Barber, Michaael Dougall and Mairi Laverty (Collective Architecture)
Engineer: David Narro Associates
QS: Brown + Wallace
Landscape: Gillespies LLP
GOLD
Company: Reiach and Hall Architects
Client: Maggie's Cancer Caring Centre
Title: Maggie's Cancer Caring Centre – Lanarkshire
Architects: Reiach and Hall Architects
Structural Engineer: SKM
M&E Consultant: KJ Tait Engineers
Landscape Architect: Rankin Fraser
Lighting Consultant: Spiers Major
Quantity Surveyor: CBA
CDM Co-ordinator: Alexander Project Management
Re-use of a listed Building
SILVER
Company: De Matos Ryan
Client: Mike Newton
Title: Home Farm
Architect: De Matos Ryan
Structural Engineer: Price & Myers
SILVER
Company: WASPS
Title: The Briggait
NOMINATION
Company: Malcolm Fraser Architects
Client: West Lothian Council
Title: Burgh Halls
Architect: Malcolm Fraser
Architect: Peter McLangthlan
Architect: Emma Fairhurst
Architect: Tim Beecher
Architect: Jens Bergmark
NOMINATION
Company: Reiach and Hall Architects
Client: Dundee City Council
Title: Dundee House
Architects: Reiach and Hall Architects
Main Contract: Lend Lease
Structural Engineer: Buro Happold Ltd
M&E Consultant: Buro Happold Ltd
Quantity Surveyor: Turner and Townsend Cost Management
CDM Co-ordinator: Reiach and Hall Architects
Lighting Consultant: Speirs Major/Buro Happold/ Reiach amd Hall
Photographer: Dave Morris
Low Cost Project
GOLD
Company: Reiach and Hall Architects
Client: Rodger Ackling and Martin Cook
Title: Bothy at Ettrick Valley
Architects: Reiach and Hall Architects
Main Contractor: Robert Reid – Joinery and Building
Structural Engineer: SKM
Photographer: Reiach and Hall Architects
NOMINATION
Company: Malcolm Fraser Architects
Client: London Fieldworks
Title: Ontlandia Fieldstation, Glen Nevis
Architects: Ewan Imrie, Peter Harford-Cross (Collective Architecture)
Engineer: David Narro Associates (Ben Adam)
Quantity Surveyor: Gardiner + Thobald (Lesly Brown)
Contractor: Clark Contracts (Stewart Kerr)
Artist: Toby Paterson
Engineering Design
GOLD
Company: Buro Happold Ltd
Client: Glasgow City Council
Title: Glasgow Riverside Museum
Architect: ZAHA Hadid Architects
Quantity Surveyor: Capita Symonds
Exhibition Designer: Event Communications
Contractor: Bam Construction
SILVER
Company: David Narro Associates Ltd
Client: National Museum Scotland
Title: Royal Museum Project Edinburgh
Project Director: David Narro
Project Leader: Ben Adam
Architects: Gareth Hoskins Architects
NOMINATION
Company: Buro Happold Ltd
Client: The Cube
Title: The Cube, Birmingham
Architect: Make Architects
Building Services: Hoare Lea
Project Manager: Faithful + Gould
Contractor: Buildablity
Public Realm/Landscaping
SILVER
Company: Austin-Smith:Lord LLP
Client: Irvine Bay URC
Title: Kilwinning Main Street
Project Director& Landscape Architect: Siobhan Vernon
Landscape Architect: Lesley Samuel
Landscape Architect: Bruno Les
BRONZE
Company: BCA Landscape
Client: Liverpool Hope University
Title: Angel Field
Project Landscape Architect: Andy Thomson
Landscape Architect: Mike O'Connell
Landscape Architect: Becky Sobell
Landscape Architect: Marianne Atheton
Landscape Architect: Sarah Kehoe
Landscape Architect: Duncan Waters
EWA: Lucy Glendining (Resin Angel Artist)
NOMINATION
Company: Ian White Associates Landscape Architects
Client: Lancaster University
Title: George Fox Square
Senior Landscape Architect: Nick Bowden
Landscape Architect: Sam Shaw
Assistant Landscape Architect: Fraser Sim
Place Making / Masterplanning
SILVER
Company: Collective Architecture
Client: Glasgow + Clyde Valley Green Network Partnership
Title: 7 Lochs
Architects: Collective Architecture (Nick Walker, Lizzie Smith, Nathan Cunningham, Judge Barber)
Business Consultants: MCM Associates (John McManus)
Ecologist/Landscape/GIS: AECOM (Brian Cuthbert, Sian Lovell, Colin Stewart)
Quantity Surveyor: Brown + Wallace (Gordon Wallace)
Sustainable Design
SILVER
Company: ARPL Architects
Client: South Ayrshire Council
Title: Colmonell Primary School
Architect: ARPL Architects
Structural Engineer: Hodgin Smith Partnership
Environmental Engineers: FLN Consulting
Quantity Surveyors: Armour Construction Consultants
CDM: HSP CDM
Main Contractor: Ashleigh Construction
SILVER
Company: HAA Design
Client: Arup Group
Title: Scotstoun House
Architect: HAA Design (Gillian Lockyer)
Interior Design: HAA Design (Jean Camplisson/Lynne Sempple)
M&E: Arup (Wayne Butler/Douglas Wylie)
Structural Engineer: ARUP (Graeme Moncur)
Environmental Engineer: ARUP (Sarah Jane Stewart)
QS: NBM (Shona Angus)
Contractor: Ashwood Scotland (Archie Melkle)
Photographer: Alan McAtheer
BRONZE
Company: Buro Happold Ltd
Client: National Trust For Scotland
Title: Robert Burns Birthplace Museum
Architect: Simpson & Brown
Quantity Surveyor: Monham & Brotchie
Project Management: Capita Symonds
Exhibition Designers: Continuum Group
Contractor: Border Construction
NOMINATION
Company: Sheppard Robson
Client: Lancaster University
Title: Lancaster Institute of the Contemporary Arts
Structural Engineer: SKM (Jonthan Rimmer)
Main Contractor: Morgan Sindall (Graham Lumberg)
M&E: Hoare Lea & Partners (Gavin Blakemore)
Future Building
GOLD
Company: Roger Stephenson Architects
Client: Peel Media
Title: The Greenhouse
Project Architect: Michael Cunniff
Back to October 2011