Bystrup emerge victorious in RIBA pylon comp
October 14 2011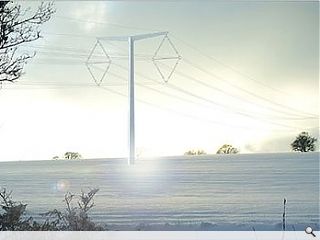 Bystrup emerge victorious in RIBA pylon comp
Danish engineering practice Bystrup has powered ahead of its rivals to be named winner of a RIBA sponsored pylon competition.
The telegraph pole style entry saw off more outlandish contenders to find favour with the judges who considered it best placed to succeed the triangular tangles of metal which have proliferated across our countryside since the 1920s.
Dubbed the 'T-pylon' it is hoped the National Grid, which sponsored the competition, will adopt the design for a new breed of transmission lines needed to ferry remote green energy to Britain's population centres.
Energy secretary Chris Huhne, one of the competition's judges, said of the winning entrant: "Its ingenious structure also means that it will be much shorter and smaller than existing pylons and therefore less intrusive."
Arup, Gustafson Porter with Atelier One and Pfistere, New Town Studio and the Structure Workshop and Ian Ritchie Architects were all runners up.
Back to October 2011