Aberdeen's St Nicholas House to be demolished
October 7 2011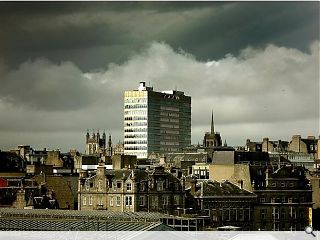 Aberdeen City Councilors have opted to follow their compatriots in Dundee by voting to demolish their own former high rise headquarters – St Nicholas House.
Designed by Aberdeen City Architects Department in 1968 the 14 storey structure will be cleared to allow the vacant site to be marketed for maximum value.
It will also remove the decaying structure from its prominent position on the city centre skyline.
Councilors are adamant that any replacement structure be of sufficient architectural quality to respect the neighbouring historic Provost Skene's House.
Doubts remain s to how the £2m project can be funded however with the Council's 2012-13 budget still to be finalised.
Aberdeen City Council recently decanted to the nearby Marischal College, redeveloped by the Holmes Partnership.
Image taken by Peter Atkinson.
Back to October 2011