Summerlee heritage trail given makeover
September 29 2011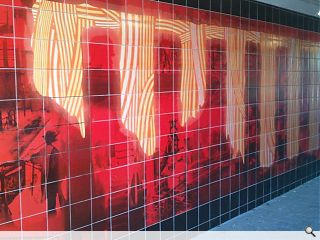 A public underpass in Coatbridge has been given a graphical spruce up by 6274 public art as part of North Lanarkshire Council's efforts to improve wayfinding along a ten mile heritage trail from Summerlee into the countryside..
To encourage use of the amenity an anti graffiti graphic tile has been installed on the underpass to decorate it with a decorative representation of Coatbridge's industrial heritage.
This stylises the two key 'flows' powering the regions former prosperity, specifically the molten iron of heavy industry and the canals which transported manufactured goods to market.
Andy Nicol of 6274, said: "The mural celebrates the areas industrial past while also making the walk way look a lot more pleasant for local community and visitors to the trail."
Back to September 2011