Trump clubhouse divides opinion
September 22 2011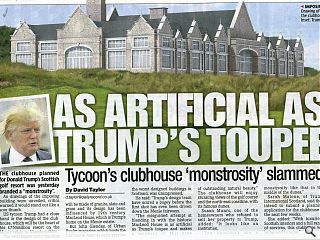 Notifying Urban Realm of the "interesting contrast in welcomes" afforded to Acanthus Architects df (not to be confused with Acanthus Architects) planned Trump clubhouse Malcolm Fraser has drawn attention to his own opinion piece in The Times.
In this the architect notes: "It looks like some brash, gung-ho American money man's idea of what a traditional 'Scottish golf house' might look like – which, of course, is exactly what it is."
Trumps plans were also eviscerated by Andy MacMillan, professor Emeritus of Architecture at The University of Glasgow who informed The Times: "I feel strongly enough to object to this building. It is going too far.
"This is not even worthy of Disneyland. It is gross. It is out of character, and it doesn't begin to exploit the landscape around it – it just stands there."
Over at the Scotsman meanwhile Neil Baxter, president of the RIAS, was busy singing its praises: "It does harken back to a long history. This is not a work of overt modernism. It's a work that connects with the historic, but it's honest in the sense that it's not saying that this is a building that dates from 1850. It's a building which might have echoes from 1850, but it's very much of now.
"It's feeding on a tradition of golf architecture."
Neil Lamb, senior lecturer at the Scott Sutherland School of Architecture and Built Environment, meanwhile chose to sit on the fence, writing (also in the Scotsman): "This image of a dominant 'Victorian country pile' is not uncommon in our landscape and resides in the best traditions of well-established international golf clubhouses, engendering notions of establishment and tradition, probably matching the aspiration and scale of such a project.
"But at this stage the design remains 'strategic' and until we have more detail, the jury is still out and its ultimate success will reside in the detailed resolution."
Meanwhile John Glenday, editor of Urban Realm magazine, told the Daily Record: "Trump's design team have scored a bogey before the first shot has even been driven down the Menie fairways.
"The misguided attempt at blending in with the historic MacLeod House is as artificial as Trump's toupee and makes a mockery of this area of outstanding natural beauty."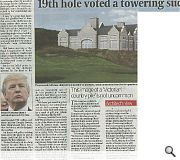 The Scotsman reported the gushing praise of architects body RIAS toward Trump's Menie offering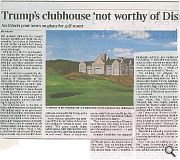 The Times reported a very different story with Andy MacMillan and Malcolm Fraser both giving the clubhouse a drubbing
Back to September 2011