Future Denny Lighthouse exhibition concludes
September 23 2011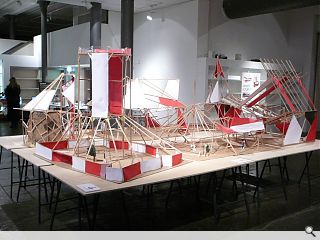 Architecture + Design Scotland, in collaboration with Denny High School, have concluded their "Denny: Future Town" Lighthouse exhibition – inspired by Urban Realm's 2010 Carbuncle Award.
The initiative sought to harness the imagination of schoolchildren to envisage a brighter future than the grim present of their town.
An A+DS spokesperson said: "These events inspired the 2nd year pupils of Denny High School to focus on this issue when they were asked to consider what their world might be like in 2025.
"Over a two day period they worked in teams of six to produce a large-scale model of what an alternative town centre might look like.
"Drawing inspiration from examples of contemporary architecture, the pupils experimented with various construction methods for assembling the models using a combination of balsa wood, coloured card, glue guns and staples."
Each segment of the completed model represents designs which incorporate civic amenities, such as shops and sports facilities, which each group felt were important to reinvigorating the town.
Urban Realm conducted a separate
Denny design competition
in November 2010.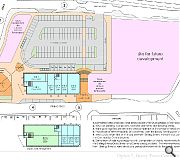 Falkirk Council's latest plans call for a row of two storey shops and a giant surface car park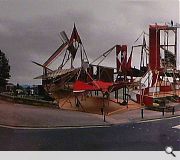 The series of colourful tented structures is inspired by comparison
Back to September 2011