A+DS give early verdict on RHSC plans
September 21 2011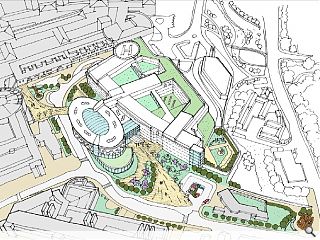 Indicative plans to obtain permission in principle to construct a children's hospital adjacent to Edinburgh's Royal Infirmary have been cautiously welcomed by design review body Architecture + Design Scotland.
Designed by Nightingale Associates and BMJ Architects The Royal Hospital for Sick Children will entail redevelopment of a car park around the wider Infirmary site to incorporate a neurosciences department, helipad and energy centre.
Referring to the sketch proposals A+DS noted that pressure to maintain sight lines had necessitated accommodating 2,500sq/m of space in a basement level - despite doubts that this would be viable in an area prone to flood risk.
In response A+DS said there were; "potential benefits to the local context in allowing the development to have greater visual prominence; provided of course that the scheme design is of sufficient quality to be a positive landmark in this area of the city."
Remarking upon the mooted layout of the hospital the design quango said; "the combination of two A+E entrances and an energy centre are unlikely to provide a welcoming impression approaching the hospital campus, and the city, from the south."
In addition A+Ds observed that: "The sketches provided of both the external spaces and the 'o-zone' suggest an environment (both in articulation of elevations and the use of art) that might appeal more to pre-school children than older children."
Detailed designs will follow on from these discussions ahead of initiating the 'design and build' procurement process.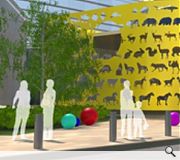 A pre-school aesthetic is thought to be off putting to older children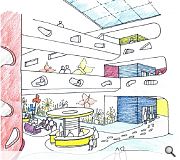 Detailed designs will reflect feedback received
Back to September 2011