Chinese tomb becomes latest addition to Scottish Ten project
September 21 2011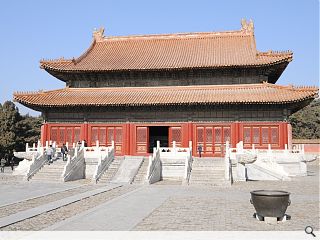 A 17th century tomb complex, in use from 1666 to 1911 and said to be amongst the most spectacular of its type in the world is to be digitally documented by the
Scottish Ten – a collaboration between Historic Scotland and the Glasgow School of Art
.
A delegation from these organisations will travel out to The Eastern Qing tombs next year to begin work on the undertaking which will see the precise physical condition of the complex mapped out in unprecedented detail.
Information gathered from this process will facilitate future remote access, interpretation and education.
Doug Pritchard, Head of Visualisation at Glasgow School of Art said; "The technology can record these sites in a detail never achieved before.
"There are numerous benefits to this from learning more about how a building was constructed through to being able to decipher inscriptions and markings which reveal more about a buildings past.
"These buildings were built at a time of great change in China and have the potential to tell us much more about this fascinating period in time."
Speaking at the opening of a Digital Documentation Conference in Glasgow First Minister Alex Salmond said that all 345 of Scotland's national monuments will be scanned in 3D – making the country the first in the world to document its heritage so comprehensively.
Back to September 2011