Port of Leith HA commence work on affordable homes
September 19 2011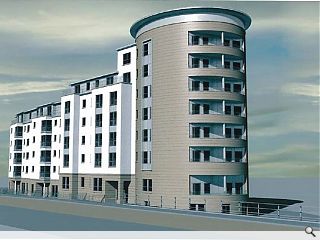 Port of Leith Housing Association has commenced work on the construction of 111 affordable homes at Western Harbour to be let at both social and mid-market rents and range in size from one up to four bedrooms.
Harts Builders are acting as contractor on the project, which will incorporate solar water heating panels on the roof, high levels of insulation and whole house ventilation.
Keith Anderson, PoLHA's chief executive, said: "As well as traditional social housing, there is a growing group of people who fall into the camp who require 'mid-market' rents, those who cannot afford full private market rents but may not be eligible for social housing.
"This is our first development of mid-market rent properties. It is important we create mixed communities and are happy we are offering an almost 50-50 split at this development. A mix of affordable housing types is very important."
Designed by Patience and Highmore the scheme incorporates a "landmark" tower clad in natural stone with lower rise elements behind finished in white render.
Completion is penciled in for late summer 2013.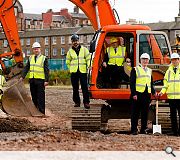 Contractors expect to be on site for a two year construction period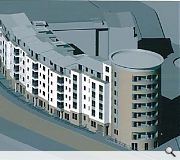 This is the second phase of works by the HA following completion of Goolander Place in June 2010
Back to September 2011