SoCo prepare revised Cowgate masterplan
September 14 2011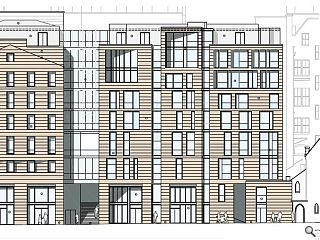 A fire ravaged site in Edinburgh's Cowgate which has lain derelict for nine years could finally be given a fresh lease of life with news that the developer behind 2009 redevelopment proposals is dusting them off for a second try.
This time
Allan Murray Architects
have been ditched in favour of ICA Architects who have entirely redesigned the high profile scheme.
Revisiting the 2009 consent SoCo (Edinburgh) Ltd have submitted plans for a proposed mixed use development comprising a 259 bedroom Ibis hotel, restaurant and bar, alongside commercial units on South Bridge and Cowgate and the reinstatement of a basement nightclub.
Turley Associates, who are acting as planning consultants on the project, said in a statement: "The design of the elevation to South Bridge is intended to be contextual rather than provide a new landmark and to reflect the regular rhythm of buildings on South Bridge, with the proposed South Bridge gable (4th Gable) remaining the dominant feature when viewed from the north along South Bridge, and also from the west along Cowgate and from George IV Bridge. "
SoCo claim that the development is fully funded.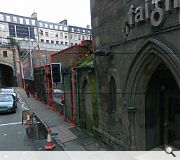 This nightclub annexe will be levelled under the plans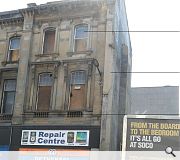 Windows will be replaced and this gable will be stripped back to allow new build with a flush facade
Back to September 2011