First major UK exhibition of OMA work to be staged at the Barbican
September 13 2011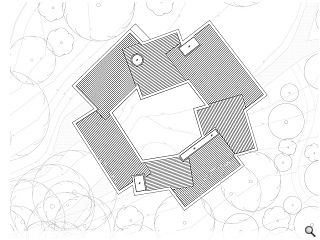 OMA/Progress, the first major presentation of the work of the Dutch architecture practice, is to be staged by the Barbican Art gallery from October 6 to February 19 following completion of Maggie's Gartnavel.
Curated by the Brussels based collective Rotor the exhibition will display a range of relics, documentation, imagery and models of the practices work.
Included in this will be a 1:1 footprint of Maggies Gartnavel, allowing visitors to walk over, through and around the plan to explore and imagine the building for themselves.
In a statement OMA said of the centre: "Instead of a series isolated rooms, the building is designed as a sequence of interconnected L-shaped figures in plan that create clearly distinguished areas – an arrangement that minimises the need for corridors and hallways and allows the rooms to flow.
"Located in a natural setting, like a pavilion in the woods, the building is both introverted and extroverted: each space has a relationship either to the internal courtyard or to the surrounding woodland and greenery, while certain moments provide views of Glasgow beyond."
Back to September 2011