Construction commences on Cumbernauld energy centre
September 9 2011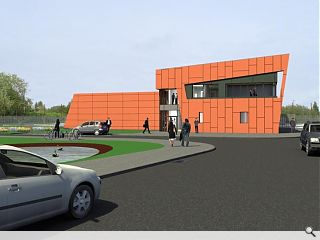 The commencement of construction works at Strathclyde University's Power Network Distribution Centre in Cumbernauld has been marked by a visit from HRH Duke of York.
Billed as the first facility of its kind in Europe it will act as a test bed for 'smart' technologies such as intelligent household appliances, smartgrids and electric cars.
Budgeted at £12.5m the centre will be at the forefront of efforts to upgrade the UK's electricity network – specifically the implementation of carbon reduction technologies and techniques for coping with an expected growth in demand.
Of the structures design BMJ Architects stated: "The building form lends itself to a sharp high-tech solution and externally the metallic finish was selected to convey the new and innovative energy technologies."
Alan Broadbent, Head of Engineering at Scottish and Southern Energy Power Distribution (who are supporting the venture), said: "The opening of this new centre represents a huge opportunity for Scotland and the UK to speed up the de-carbonisation of the grid. We are committed to testing and deploying new technologies that facilitate this and the centre will provide an environment to trial these more quickly and effectively.
The centre is expected to open in early 2012.
Back to September 2011