Charlie Hussey defends China work
September 8 2011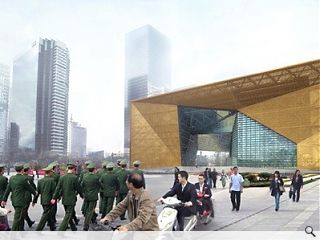 Charlie Hussey, director of Sutherland Hussey architects, has defended his practices active solicitation of work from China.
The practice completed their first project in the notionally communist state as recently as 2009,
a timber canopy gateway to the Xiling ski resort near Chengdu
.
That early foray has now been followed up with the design honours on Tongzhou tower, the third tallest building in Beijing and the conceptual design for a new city - again in Chengdhu province.
Hussey's success means the territory now accounts for some three quarters of the practices present workload, a statistic Hussey has few qualms with - despite continued human rights abuses by the Chinese government.
Speaking to the FT, Hussey said: "Whenever ethics in China is brought up, architects are always picked on. But we're all trading with China. If Joe Bloggs buys a TV, he's trading with China. Architects just deal with bigger pieces. There isn't a single person in the UK who hasn't traded with China.
"It may be that we're all being unethical, but the reality is that China will soon become the most powerful economy in the world and one can't just bury one's head; one needs to engage it, and it is changing."
Ironically the practice is yet to complete a single building within their native Edinburgh.
Back to September 2011