Nord pen their biggest project yet
August 26 2011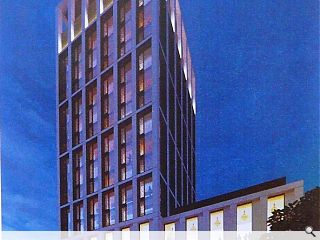 Nord Architects have submitted plans for an ambitious makeover for Royal Exchange Square following a ten year process of site acquisitions by the landowner, Glenerrol Ltd.
The developer is seeking to demolish a sandstone terrace tucked away in a courtyard immediately behind the Square to make way for a mixed use development comprising a 100bed hotel, retail, bars, restaurant and casino.
Outlining his scheme to the Glasgow Urban Design panel Alan Pert noted that at present only 25% of upper levels are in use: "Big areas are being brought back into beneficial use. The proposal will connect levels throughout and fill the existing space which is currently unused."
Remarking upon the headline feature of his plans Pert said: "The tower incorporates an outdoor terrace which is set back from the skin of the building. The terrace will enable people to walk around outside with views over Glasgow."
Controversially however a sandstone terrace at South Exchange Court will require to be demolished to make way for it all as Pert explained: "We are not condemning the structure; however our preferred option is demolition to ensure the project is viable. It is recognised that just because the building is in a poor courtyard we can't just knock it down.
Pert stressed that façade retention had been considered but dismissed as the existing building features an elevated ground floor that precludes street interaction.
The scheme, Pert asserts, will replace the "dark and dingy" existing courtyards, currently utilised for parking and refuse collection, to offer a variety of small retail units and outlets.
Despite Pert's best efforts the GUD panel insist that a rectangular floorplate could reduce the height (and impact)by six floors – an option earlier dismissed by the architect as a "slab building" which would present a "bigger issue" in relation to Royal Exchange Square.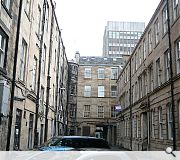 A fine terrace (right) could be demolished if the plans are approved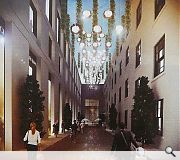 Dark and dingy alleys could make way for light filled arcades
Back to August 2011