Edinburgh Trams to terminate at Haymarket
August 26 2011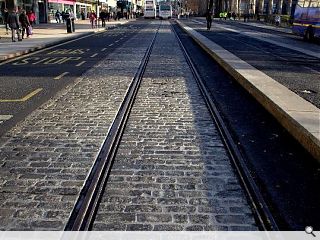 Years of cost overruns, disruption and traffic chaos on Edinburgh's Princes Street may have been in vain after Edinburgh Councillors decided to cut the line short of the city centre.
The decision to axe the stretch of track will save the Council an estimated £231m in borrowing but will incur the need for a projected £4m annual subsidy.
It will mean passengers transferring from Edinburgh Airport to the city centre will have to disembark at the station and hop aboard a bus to reach their destination.
The decision has been described as "bonkers" by the chief executive of the Edinburgh Chambers of Commerce Graham Birse, who told the BBC: "No business person in Edinburgh would take to their board the proposition that we should invest £700m in a project that is going to make a £4m a year annual loss.
"And to borrow £11m a year to sustain it is just bonkers."
Ironically disruption to Princes Street will continue as the track work done thus far needs to be redone on health and safety grounds – even if no tram ever rolls across them.
Back to August 2011