Glasgow masquerades as Philadelphia for World War Z shoot
August 17 2011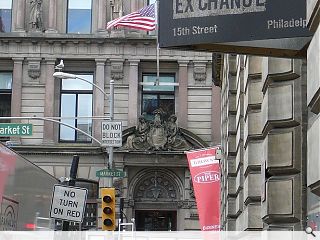 The buildings may be shorter but with the addition of a few strategic hot dog stands, yellow cabs and 'Walk/Don't Walk" signs Glasgow has assumed a distinctly American flavour as filming gets underway on the set of sci/fi horror World War Z.
Local rag the Evening Times has been banished from affected street corners, substituted by stands stocking the Philadelphia Inquirer and the incongruous sight of American branded police cars now greet tourists and locals around George Square - as producers ready to unleash their hordes of zombie extras.
They populate Cochrane Street which has been renamed John F. Kennedy Boulevard and South Frederick Street which has now assumed the identity of Market Street.
Always the most American of Britain's cities with its grid iron plan and solid Victorian architecture Glasgow is positioning itself as a low cost alternative to the real thing to attract investment.
Brad Pitt and wife Angelina Jolie are in town for the shoot, staying at the Carnell Estate Mansion near Kilmarnock for the next two weeks.
Film fans will be able to see Pitt cutting down zombies on the streets of Glasgow when the movie hits big screens next year.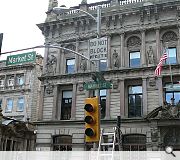 King's Corinthian Club has been dressed up in the stars and stripes for the occasion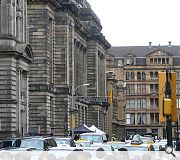 This Cochrane Street traffic jam might be familiar - but the vehicles are not
Back to August 2011