GCA Architects table live/work studio plans
August 17 2011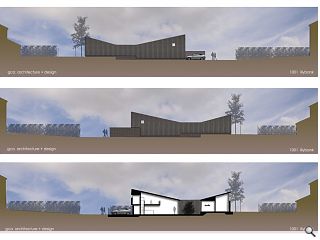 GCA Architects have submitted plans for a new live/work studio in Muirhead, moulded by a particularly tight and narrow site.
Occupying a plot measuring just 8m in width the building adopts a courtyard form to provide private external spaces alongside adjoining living spaces extending across 28m of available land.
Fully glazed on the three private sides this arrangement of courtyards serves to maximise the penetration of southerly light into the main living space, , whilst allowing northern light (favoured by artists) to flood the studio space.
Clad in a skin of black/grey timber the studio employs timber frame windows on a solid brick base – which extends to define the site perimeter and forecourt parking area..
Incorporating two bedrooms, an open plan kitchen/dining/living area the home takes advantage of a natural slope from north to south to incorporate a mezzanine level whilst minimising height encroachment on neighbouring properties.
A sedum roof is proposed to instil a natural appearance to the property from neighbouring vantage points, acting as a habitat for birds and insects and insulating the accommodation below.
Construction work is expected to commence in 2012.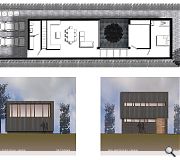 Innovative construction methods will be employed for the bespoke build
Back to August 2011